09 Jan 2018
Aravali Hills – 14 Facts And 3 Hindi Videos | Geography Videos
Aravali Hills are a mountain range of India. These mountain ranges are spread over the northwestern part of the country. Aravalli, a composite Sanskrit word from "ara" and "vali", literally means the "line of peaks".
YouTube Videos About Aravali Hills in Hindi
Geography Category के इस Page पर आपको अरावली की पहाड़ियों की जानकारी देते सबसे अच्छे YouTube Videos तक पहुँचाया गया है। Videos के बाद इन पहाड़ियों से जुड़े 14 Facts भी बताए गए हैं। Geography से Related अन्य Hindi Videos भी आपको इसी Website पर मिलेंगे।
Video 1 : अरावली पर्वतीय क्षेत्र और उसका विस्तार || अरावली की प्रमुख चोटियाँ, पर्वत और पठार ||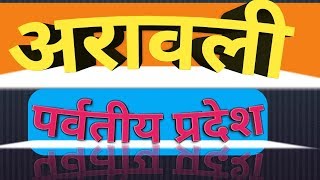 Video 2 : अरावली पर्वतमाला के प्रमुख दर्रे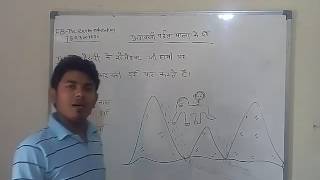 Video 3 : अरावली की चोटियों को याद करने की ट्रिक हिंदी में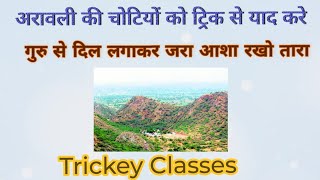 14 Notable Facts About Aravali Hills
1. Aravali Hills are spread across four states of India – Rajasthan, Haryana, Gujarat and Delhi.
2. This mountain range starts from the Ahmedabad of Gujarat and then going to from Ajmer and Jaipur of Rajasthan and then enters to the southern parts of Haryana. Upon reaching Delhi, its height is greatly reduced and it merges into the ground.
3. What is the length of the Aravali mountain range? The length of this mountain range is 692 kilometers.
4. 80% of this mountain range is in Rajasthan and this mountain range divides Rajasthan from north to south in two parts.
5. The Rashtrapati Bhawan, located in Delhi, is built on Rheeshala hill, which is part of the Aravali Mountains.
6. The average height of the Aravali hills is 930 meters.
7. In the southern part, it is more broad and high, while going north, their height decreases.
8. In the southern hills of Aravali, greenery and dense jungle are found only, whereas most of the northern areas are sandy and rocky.
9. Which is the highest peak of Aravali? The highest peak of the Aravalli is Guru-Shikhara which is 1,722 meters high above sea level. It is located in the Mount Abu city.
10. The Aravali Mountains are filled with various types of minerals. Lead, copper and zinc are the major minerals found here.
11. The vast Thar Desert lies in the west of the hills. The hills prevent it from spreading east.
12. Many rivers also come out of the Aravali Hills, of which Banana, Luni, Sakhi and Sabarmati are prominent.
13. History of Aravalli Mountains – Aravali Mountains are the oldest mountain ranges in the country. They were constructed in the form of Fold Mountains, which have now become a residual mountain after erosion for long periods.
14. Different places of these hills have different names. In Udaipur they are known by the names of 'Jagga Pahariyan', 'Hills of Harshnath' in Alwar, and 'Paharia of Delhi' in Delhi.