01 Aug 2018
Rajesh Khanna Movies Watch Online YouTube
Friend, if you want Rajesh Khanna movies watch online on YouTube than you are on right place. Here you get the links of all Rajesh Khanna movies on YouTube.
Hello Friends, इस पेज़ पर आपको YouTube पर uploaded Rajesh Khanna की Movies के links मिलेगें। हमने केवल उन्हीं videos के links दिए है जो कि पूरी तरह से officially हैं और किसी द्वारा copyright का उल्लंघन करके नही डाले गए।
नीचे दिए सभी movies के links YouTube पर खुलेगें। इस पेज़ को Bookmark करने के लिए पहले Ctrl+D दबाएं और फिर Enter.
Dushman
Surjit Singh is forced to take care of Ram Din's family after he accidentally kills him while driving under the influence of alcohol. However, he is treated with hostility by Ram Din's family members.
Release Date : 1971
Director : Dulal Guha
Mehbooba
Suraj gets stranded in a rest house during a rainstorm. Even though he has never been there before, he experiences a feeling of deja vu. He sets out to find out the reason behind this.
Release Date : 19 July 1976 (India)
Director : Shakti Samanta
Roti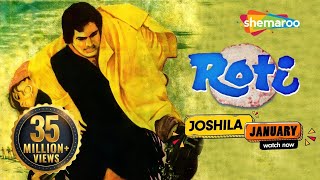 Mangal, a hard-core criminal, is sentenced to death. However, he escapes from prison with the help of a criminal. But will he be able to evade the cops, leave his past behind and start a new life?
Release Date : 11 October 1974 (India)
Director : Manmohan Desai
Prem Kahani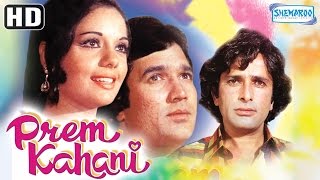 Rajesh who was never actively involved in opposing the British rule changes after his brother is killed. He goes as far as to leave his lady love Kamini, thus affecting both of their lives.
Release Date : 1975
Language: Hindi
Adhikar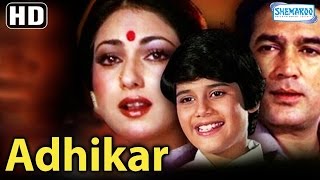 Vishal and Jyoti get married despite being from different backgrounds. When they separate, their son Lucky is told that his mother is dead; however, years later, she re-enters his life.
Release Date : 25 April 1986
Director : Vijay Sadanah and Chitrayug
Ittefaq
Dilip loves his passion more than his wife, and one day in a fit of rage, when his wife tries to harm his paintings, he strangles her to death.
Release Date : 4 October 1969 (India)
Director : Yash Chopra
Amrit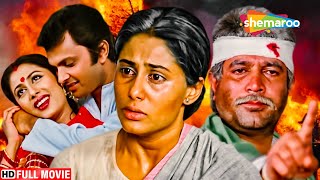 An elderly widow ill-treated by her children happens to meet with a widower who faces the same problem. Both form a close bond, sharing each other's pain.
Director : Mohan Kumar
Bawarchi
The Sharma household is in a state of disarray till the day Raghu arrives. More than a cook, he has solutions to all the problems. Just as all is bliss, the family jewels disappear and so does Raghu.
Release Date : 1972
Director : Hrishikesh Mukherjee
Nazrana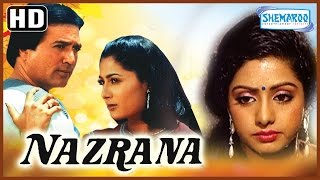 A couple falls in love with each other and get married. But, their marriage goes through tough times and they decide to part ways. This is when Mukta, the wife, realises she is pregnant.
Release Date : 27 January 1987 (India)
Director : Ravi Tandon
Maalik
While Rajesh firmly believes in God, his wife, Savitri, is an atheist. When their child is born without any limbs, the couple begins to visit the holy places in the country in order to placate God.
Release Date : 3 November 1972 (India)
Director : A. Bhimsingh
Karm
Asha and Arvind live together and soon start making plans for the new addition in the family. What she does not know is that Arvind has met a young woman named Neelam Shukla who wants to marry him.
Release Date : 1977
Music Director : R. D. Burman
Sachha Jhutha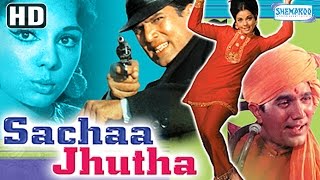 Ranjith, a thief, hires Bhola, a lookalike, to take his place, while he executes the robbery. However, Bhola soon gets trapped in the world of crime and has to prove his innocence.
Release Date : 1 May 1970 (India)
Director : Manmohan Desai
Safar
A pair of lovers are cruelly separated by destiny when the boy is diagnosed with terminal cancer. On his insistence, the girl settles down with another man, but he turns out to be a jealous husband.
Release Date : 1970
Director : Asit Sen
Ghar Parivar
Shankar loves his stepbrothers more than his own son. But the happy family disintegrates due to the vested interests of one of the brother's wives and a greedy moneylender.
Release Date : 1 January 1991
Director : Mohanji Prasad
Masterji
Radha falls in love with the new teacher employed in the village school. Being a widower with a son, he snubs her. Enraged, she publicly accuses him of having an affair with her.
Release Date : 31 May 1985 (India)
Director : Kovelamudi Raghavendra Rao
Aap Ki Kasam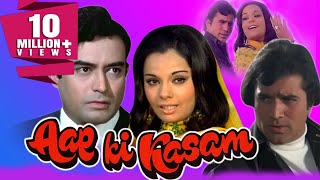 Sunita Bhatnagar, a beautiful and wealthy young lady, falls in love with a poor man named Kamal and marries him. Their marital bliss is short-lived as Kamal accuses Sunita of infidelity.
Release Date : 17 April 1974 (India)
Director : J. Om Prakash
Aan Milo Sajna
A wealthy widow refuses to will anything to her selfish son. In order to win her affection, he introduces her to his fiancee, a girl he hires to play the part. But things do not go as planned.
Release Date : 24 December 1970 (India)
Director : Mukul Dutt
Rajput
Unable to handle the taking away of his kingdom by the government, Maharaja kills himself. His son takes over as the Maharaja, turns rebel and refuses to hand over his kingdom.
Release Date : 16 April 1982 (India)
Director : Vijay Anand
If you satisfied with Rajesh Khanna Movies Watch Online YouTube or if any problem regards Rajesh Khanna Movies on YouTube than please comment below.